Blog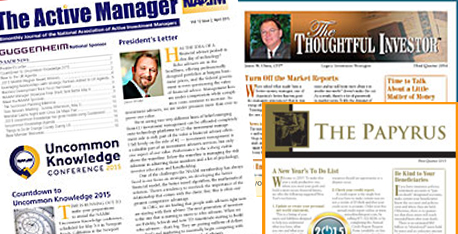 "I had a prospect hit me up to manage their IRA and Roth accounts at the pool this morning. I forgot they were on my mailing list. They have been getting my newsletters and received the IRA contribution page." Thanks, Victor
Marketing is every business' biggest challenge.  The better mousetrap has to be sold better than its competitors. The same works for money management. Great performance is nice, but until you have communicated that performance to the right audience, it doesn't matter. And often performance isn't what you want to sell in the first place.
The problem with selling performance is that you can't guarantee it will be there.  What you can guarantee is a thoughtful, systems based management designed to provide a reasonable return with reasonable risk. Replace the reasonable return and risk with your marketing promise. Now your job is to convey that promise to your targeted audience not just once, but over and over to assure that your message penetrates the clutter, conveys integrity and is at hand at the right moment.
Properly crafted, a newsletter does just that.
An effective newsletter should:
(1) Reinforce your expertise, building credibility with insights into investing
(2) Provide usable information. Information the reader can use and benefit from.
(3) Stay on message. If you are a financial adviser, you don't waste print space on recipes.
(4) Avoid becoming too technical or too negative.

Equally important, it gives you a reason to contact the prospect over and over again, to stay in their awareness and build credibility.
What is the best format for a newsletter? As much as you might want to avoid the expense of direct mail, a printed newsletter is your only means of knowing the message reached your audience. Print also has the benefit of staying around for longer than a cursor scroll.  With that said, you can afford to reach out to a much larger audience with email newsletters. Because email is more conducive to shorter messages, it's also effective to send your newsletter more frequently.
But that's just the start to effectively using your newsletter content. Newsletters can be posted to your  web site, Facebook or LinkedIn page and promoted with tweets. Articles can be turned into news releases and sent to your local media or distributed through online services. Individual articles can be reprinted for use in marketing materials, and  the list goes on.
When you need help with your newsletter
If finding the time to write a regular newsletter is holding you back from using this very effective marketing tool, we can help.
(1) Proprietary newsletters. These newsletters are specific to your firm with your masthead and content. We work with you to produce each issue from writing and layout to print production.
(2) Content for proprietary newsletters. Many firms already have an in-house newsletter but struggle to find meaningful content for each issue. We provide FINRA-reviewed articles written specifically for active managers that you can purchase for use in your newsletter. Previews of upcoming issues are available on request. You can also ask to receive articles via email for your review.
(3)The Thoughtful Investor. This is a FINRA-reviewed client newsletter for active investment managers developed quarterly. Customization options include proprietary mastheads, adviser photograph and contact information. Each issue offers at least one article on why active management makes sense, as well as financial management topics and market insights. Newsletters are available as
Printed two-color or full color self mailers
Html formatted emails
Web page newsletters
PDF files that can be emailed to clients or printed in house
Articles and artwork for inclusion in in-house newsletters.
 (4)The Financial Perspective. In a variation on the Thoughtful Investor content, the Financial Perspective uses just half the articles in a full Thoughtful Investor issue to create a two-page newsletter, or in some quarters, two variations of a two-page newsletter to use depending on the adviser's management direction. Articles carry the FINRA review from the original Thoughtful Investor newsletter. Like the Thoughtful Investor, the Financial Perspective is available as a printed self mailer, a html formatted email newsletter, a pdf, or a web page.
Linda Ferentchak has created financial newsletters for more than three decades and has an extensive library of topics and styles. In addition to marketing newsletters, she has written employee newsletters, quarterly and annual reports, fact sheets web sites and more.  To read past issues, visit Thoughtful-Investor.com