Our job is finding the right words to tell your story, and telling it well.
Visit our web site for
active investment advisors -

Financial Communications Associates, Inc. is a financial marketing communications and public relations firm, specializing in communications to business and investor audiences, including individual investors, the financial media, shareholders, analysts, brokers, trade publications, and the investment community.
Our services range from writing and production coordination of a wide array of marketing materials, annual reports, web sites and presentations to writing news releases and generating feature news coverage. We also represent clients to the media and financial analysts and conduct analyst and customer opinion audits.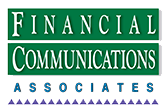 P.O. Box 185
Morrison, CO 80465
303-989-5656
fcainc@effectivewords.com